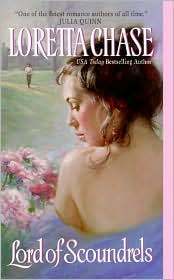 Lord of Scoundrels
by Loretta Chase
4 stars
Goodreads synopsis:
DETERMINED LADY
Tough-minded Jessica Trent's sole intention is to free her nitwit brother from the destructive influence of Sebastian Ballister, the notorious Marquess of Dain. She never expects to desire the arrogant, amoral cad. And when Dain's reciprocal passion places them in a scandalously compromising, and public, position, Jessica is left with no choice but to seek satisfaction ...
LORD OF SCOUNDRELS
Damn the minx for tempting him, kissing him ... and then forcing him to salvage her reputation! Lord Dain can't wait to put the infuriating bluestocking in her place --- and in some amorous position, And if that means marriage, so be it! --- though Sebastian is less than certain he can continue to remain aloof ... and steel his heart to the sensuous, headstrong lady's considerable charms.
Yes, it's an old book. Yes, it's HISTORICAL ROMANCE CANON.
I read a Chase book last year. Turns out, it was part of the Scoundrels series. This book is book three. Anyway, we'll ignore the glaring error of me not reading books in order.
Dain is angsty, and very much still a little boy inside a grown man's body. The psychology student in me screamed, "Therapy!"
The hopeless romantic whispered, "He needs a good dose of old-fashioned lovin'."
He wants to do better. He also doesn't want to get hurt. He's trying. He's scared. There's a lot going on there. At first, I didn't know how I would respond to him, but in the end, I really liked him. He's the character that had a lot of room to grow, and actually did grow.
I adored Jess Trent. She is your typical bluestocking spinster who neither needs nor wants a man. And she shoots Dain. She. Shoots. Him.
SHE. SHOOTS. HIM.
Served the b-tard right for walking away after being caught with her. He then marries her because he's the only man big and mean enough to handle her. He also has a major crush on her.
Aww.
Anyway, it's a good book, and I can understand why it's canon. Because, it's always on a best-of romance list. Always.
I love when I read a book that's a BIG DEAL, and it is actually a BIG DEAL.